The most important cable information in a handy pocket format for every electrotechnical professional
On site and looking for the maximum current of a cable? Want to quickly check whether a cable is not too long for the required power? Making a section calculation manually, at your desk or on site? Calculating the cable weight in order to choose the right cable duct? All practical questions to which the handy Nexans pocketbook provides the answer.
If you want to carry out your installation correctly and efficiently, you must always keep the necessary information at hand. The N-manual groups everything for you!
" The N-manual has been an established booklet for electricians, installers and engineering firms for years and helps them to choose the right cable for their installation. "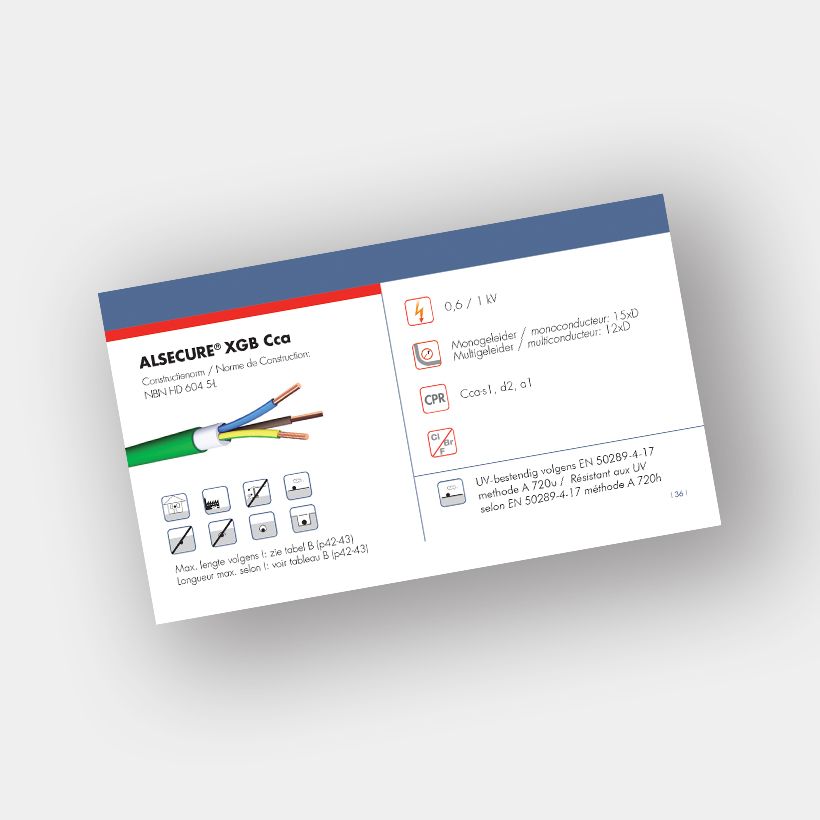 What information is included?
You'll find the essential data for each cable type:
Construction standard
Operating voltage
Bending radius
Fire class according to the CPR
Permitted installation modes
Conductor colours
Per cable reference (construction) you will then find:
Physical properties: core type, external diameter, weight
Electric properties: maximum permissible current Iz, voltage drop ∆U
Tables with the maximum permitted length depending on the section selected, the current, the voltage level (230 or 380V) and the installation method (in open air or underground).
Which cable types are in the N-manual?
The most commonly used installation wires and installation cables for domestic and industrial installations:
Calculating a cross-section? How do you do that?
You already knew that a correct cross-section determination is essential for the safe functioning of your installation. But how do you calculate a correct cross-section? The N-manual contains clear tables with the correction factors and explains how to get started with some calculation examples.
Not convinced that you can do it yourself? Then use our free-of-charge EASYCALC™ tool on the website or in the Nexans APP. Specially developed for the professional, EASYCALC™ determines the right section in 4 simple steps.
Our websites
Select your country to find our products and solutions