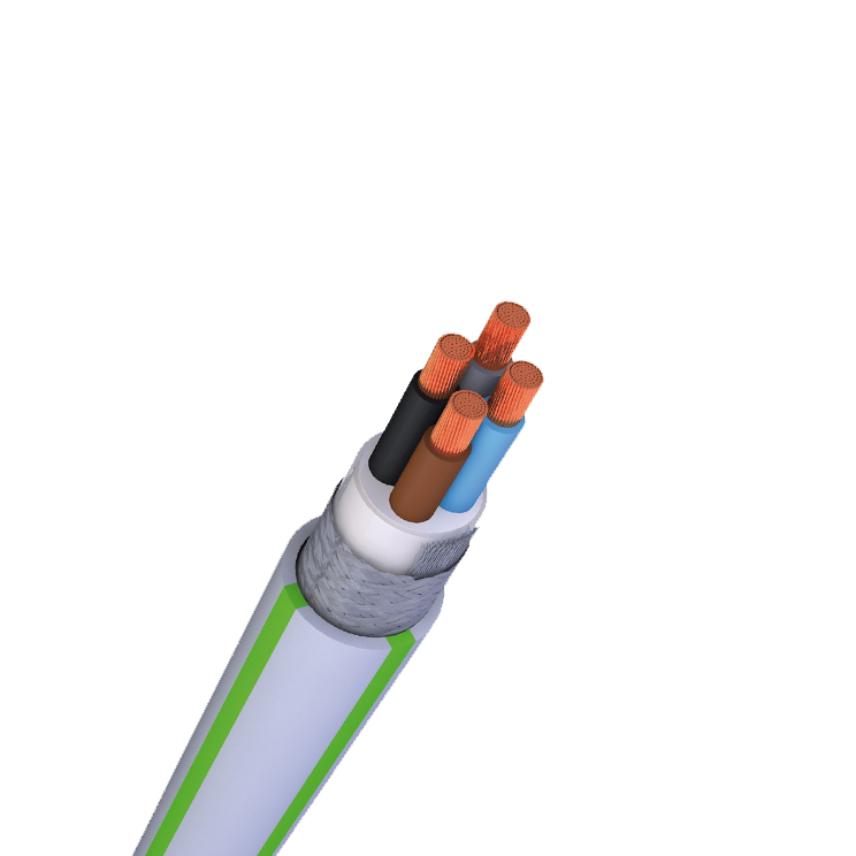 EO-YMeKaszh OV is a low voltage armoured cable for 0.6/1kV according to the Dutch standard KEMA 162-4: 2007 and is specially designed for outdoor use in public lighting networks and installation directly in the ground. EO-YMeKaszh OV is halogen free according to IEC 60754 and its PE sheath gives the cable excellent radial watertightness and strength and generally good chemical properties. EO-YMeKaszh OV is recognizable by its gray outer sheath with green lines.
Read more
Description
Description
Standards
Applications
EO-YMeKaszh OV is a low voltage power cable purpose-designed for public lighting. The polyethylene (PE) inner and outersheath have good properties with regard to radial watertightness, low installation temperatures, weather influences, ozone and UV-light. The cable is halogen free according to IEC 60754 and has good chemical properties.
Design
Conductor
Bare copper,solid, class 1 (<= 6 mm²)
Stranded, class 2 (>= 10 mm²)
IEC 60228
Insulation: XLPE (cross linked polyethylene)
Filler : Halogen free compound
Inner sheath: PE
Armour: Galvanized steel wire braiding with an underlaying drainwire of tinned copper
Outer sheath: PE
Colour: grey with green stripes
Core identification
3 core: brown-black-light blue
4 core: brown-black-grey-light blue
Marking
NEXANS EO-YmeKaszh 0,6/1 kV OV n x s + as mm² KEMA-KEUR "year"
Characteristics
Characteristics
Construction characteristics
Construction characteristics
XLPE (Cross-linked Polyethylene)
Material of filler / inner sheath
Halogen free filling compound
Electrical characteristics
Electrical characteristics
Mechanical characteristics
Mechanical characteristics
Mechanical resistance to impacts
Usage characteristics
Usage characteristics
Maximum operating temperature
Operating temperature, range
Installation temperature, range
Resources
Resources