Double skin active cabinets
Description
Description
Standards
International

Nexans specification
Outdoor double skin metallic cabinets are a modular solution for cross-connect cabinet. They are optimized for street use for passive FTTH configurations point to point or PON with integration of splitters or active configurations like FTTC.
Compared to other outdoor cabinets solutions, outdoor double skin metallic cabinets are the best choice for customization and modularity. All the parts of the cabinet are removable to ease installation, for maintenance or future extension. Design is adapted to all configurations passive or active. These cabinets are built with aluminium profiles and elements to create a double skin or double wall structure. This structure allows a natural air circulation inside walls which promotes cooling of the cabinet and the absorption of solar radiation.
Outdoor double skin metallic passive cabinets are equipped with 1 to 5 racks with format 19'' compatible with all types of optical modules (swiveling type), with a area behind the modules for clamping, fan-out of cables and management of fiber and with a coiling area for patchcords overlength management .
Depending on the need, the range is available in various heights up to 1600mm (with plinth of 200mm included), a standard depth of 410 mm and a width of 810mm (1 door) or 1560mm (2 doors). Specific sizes are available on demand.
Door(s) : 120° opening, handle with locking system 3 points and lock (triangle 8mm)
Fixing : On concrete slab with screws (not provided) or by using fixing frame
Active cabinets have same double skin structure but they can also integrate active configuration for Telecom network FTTx or xDSL, taking into consideration local constraints (temperature, solar load, humidity, sea proximity, …).
The cabinets can be fitted on demand* :
Mounting accessories (19'' amounts, back plates, ...)
Fixing and routing for cables
Miscellaneous (briefcase, laptop set, lock, ...)
Power Distribution Unit
Electrical accessories (light, outlet unit, ...)
Venting and filters
Heating and cooling system**
Control and monitoring (thermostat, humidistat, ...)
Alarm management (opened door, T° max/min, ...)
DC plant with Batteries Management
Integration of active equipment (DSLAM, Switch, OLT, ...)
Integration of passive equipments (optical modules, copper terminal blocks, ...)
*Depending of the configuration, IP could be from IP54 to IP65.
**A design of heating and cooling system (heater, direct venting, heat exchanger, air conditioner) could be proposed depending on power to dissipate and local climate.
These cabinets comply with current regulations and are EC certified.
Example of realisation: MiniPOP cabinet
The MiniPOP cabinet is designed to accommodate active equipment for FTTH and / or mobile networks as well as passive optical equipment for service distribution and connection to the backbone.
It is equipped with 3 compartments:
A 19 '' rack for the integration of active equipment: switch, OLT, hub, ...
A 19 '' rack for the integration of passive equipment: splicing and patching optical modules with or without the use of splitters
A battery compartment to allow autonomous operation of the cabinet in case of power failure
Standards equipments
Lifting eyes
Opening the right side panel from the inside
Door locks (opening at 120 °)
Access hatches to the base
Grounding terminal connected to all metal components of the cabinet (EC)
Handle closure with 2 or 3 point lock (key lock)
Cable entries with cable glands and plugs (Ø and number to be defined)
Base for fixing in concrete slab 4 or 6 fixing points
Proposed electrical equipments
Power Distribution Unit PDU heigth 3U with:
Main circuit breaker 40A with automatic reset
Plug on 30mA differential circuit breaker
Specific circuit breakers for each circuit
External connection for generator in case of prolonged power failure
1 LED lamp at the top of each rack
48V DC plant with:
Integrated ORION controller
4 rectifiers
4 x 12V batteries (ability to set according to desired autonomy)
Alarms: Temperature sensor and door opened
Air conditioning or heat exchanger assembled on left panel openable street side by an external handle and equipped with an outer cover to maintain a level of tightness to IP55.
The choice between air conditioning or heat exchanger will depend on the cooling capacity to be achieved (calculation to be made between the power to be dissipated, the desired internal temperature and the maximum external temperature of the location of the cabinet).
Optional 400W heating is proposed to maintain a minimum temperature inside the cabinet. It is connected to a manual thermostat to set its launching temperature.
Passive equipments
The cabinet can be equipped on request with passive optical modules adapted to the desired configuration. Here are some examples:
Splicing / patching module for distribution to subscribers
Splicing / splitting module for GPON service
Storage or coiling module for waiting tubes or jumpers
All the electrical and passive equipments selected will be integrated into the cabinet, this service includes wiring, testing and supplying the wiring diagrams. The integration of the Customer's communication equipments is also possible.
Air conditioning assembled on left panel openable street side by an external handle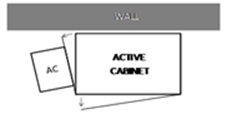 Configuration example 1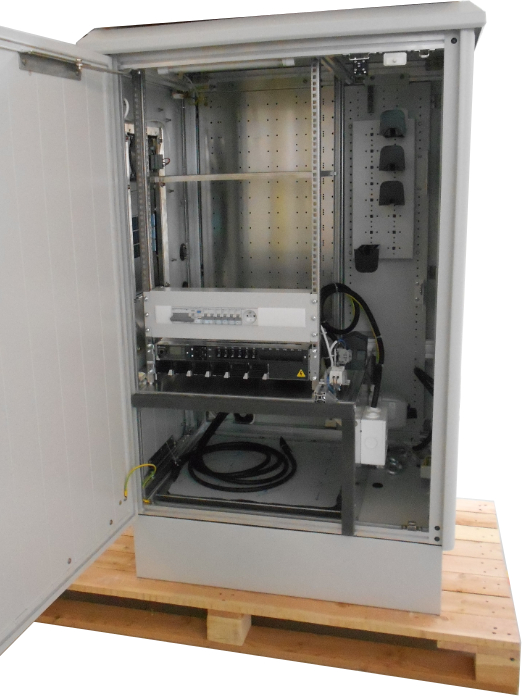 Configuration example 2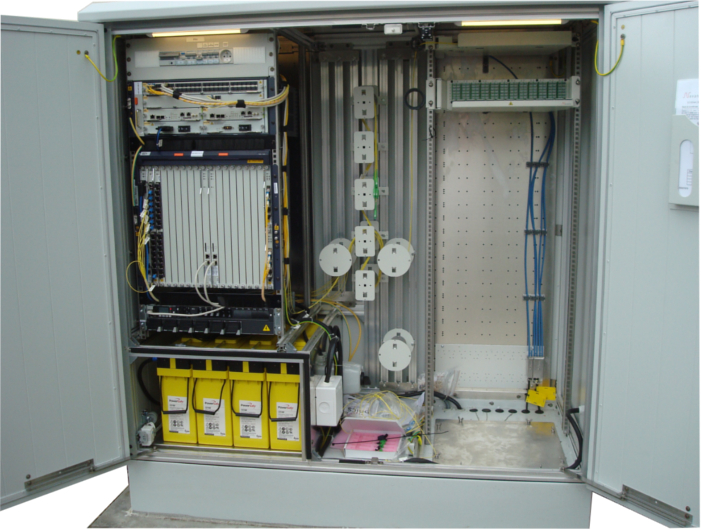 Accessory: Fixing frame
Nexans references
10238417 for cabinet base 750x350
10235652 for cabinet base 1500x350
10236502 for cabinet base 810x410
10238221 for cabinet base 1560x410
10234981 for cabinet base 1960x710
Fixing frame to be sealed into concrete slab to fix a metal cabinet (4 points)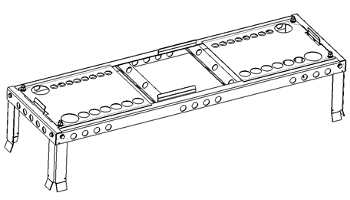 Fixing frame to be sealed into concrete slab to fix a metal cabinet (6 points)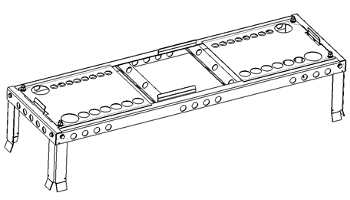 Option: Anti-graffiti paint
Anti-graffiti paint means paint with some resistance to solvents to help cleaning of graffiti.
Cleaning process
Cleaning must be done as quick as possible because if impregnation of graffiti is too long, it should be not completely removed. Chosen cleaning agent must be tested on a small surface preferably not visible. Cleaning must be made with soft cloth in a short time and surface must be finally rinse with water.
Cleaning agents**
Recommanded by manufacturer : P SCRIBEX 500 (Henkel), ARCANE US 226 (Arcaneige2:Gj2ndustries), SOCOSTRIP T4210P (Socomore), other usable commercial products : 90 ° alcohol, white spirit, acetone.
** It is essential to read the precautions for use of agents before use.
Option: Cabinet extensions
Double skin outdoor cabinets are future-proof solution because it is possible to extend easily a cabinet in 3 manners:
Extension from side (no change on height and depth of cabinet)
Extension from top (no change on base of cabinet)
Extension with new housing (everything is possible)
Example of extension on the side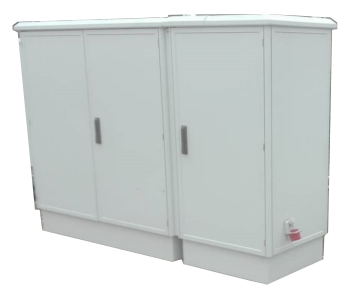 Characteristics
Characteristics
Construction characteristics
Construction characteristics
Mechanical characteristics
Mechanical characteristics
Usage characteristics
Usage characteristics
Resources
Resources
Selling & delivery Information
Only on demand, please contact us.
Our websites
Select your country to find our products and solutions