Splicing Patching / COSH48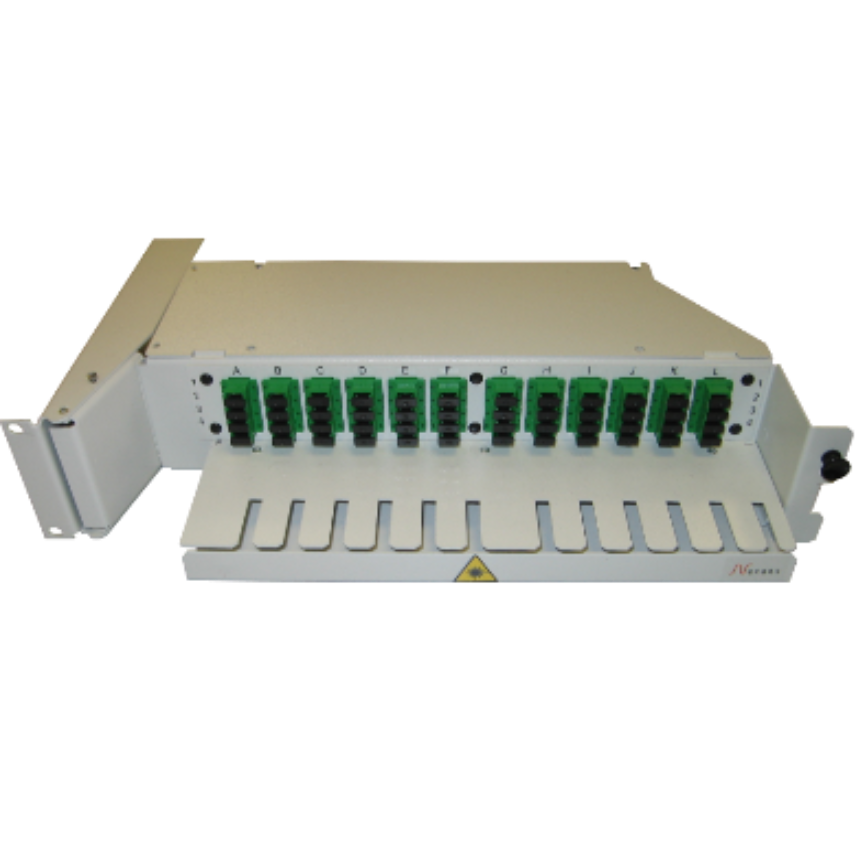 COSH module with combined splicing and patching functions
600mm and 900mm deep frames
Full access to the back of the frame
Version for standard frame architecture
Combined functions: splicing and patching
48 adaptors
Read more
Description
Description
Standards
International

Nexans specification
Application
The COSH 48 modules allows to connect up to 48 fibres. On the terminal part of the FTTH network, the COSH 48 modules receive the fibres located downstream the mutualisation point.
Details
The COSH 48 2U module includes a space reserved for splicing of the incoming fibres. Splicing is performed in splicing trays. A front panel ensures the patching function with a capacity of 48 adaptors. The module is compatible with all types of frames (19'' or ETSI standards) with a minimum depth 300mm. It is available both in elementary and subrack versions.
The accessories fitted with the module guarantee the conformity with the bending radius of the fibre (G652). It is prepared in order to minimise the installation time on sites where it is deployed.
The module is composed of the following subparts:
Fixed chassis or envelope attached to the rack (19'' or ETSI),
Swivelling chassis (left or right axis versions available) including a front patch panel with alphanumerical identifier for the adaptors,
Pivoting support for the splice trays,
Front output jumper management system and device for lateral management of optical jumper harnesses.
The management of cables or protection tubes is done at the rear of the module whilst the management of the jumpers is performed at the front and on the rotation axis side.
Characteristics
Characteristics
Construction characteristics
Construction characteristics
Dimensional characteristics
Dimensional characteristics
Usage characteristics
Usage characteristics
Operating temperature, range
Minimum static operating bending radius
Our websites
Select your country to find our products and solutions