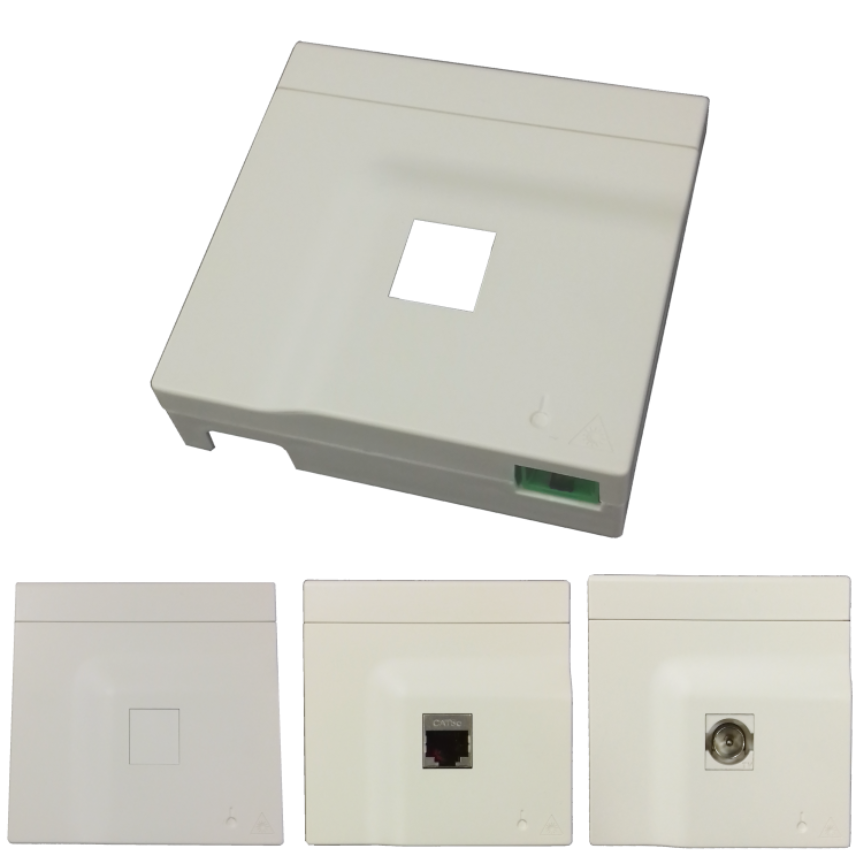 1 SC adapters
1 Keystone slot (for RJ45 or Coaxial)
Wall mounted, on flush box or DIN rail
No lid-opening to fix the outlet
Ready-to-fix kit in option
Read more
Description
Description
Standards
International

Nexans specification

National

Orange/France Telecom
Optical terminal outlets, installed in the subscriber's home, are the optical equipments materializing the demarcation between the FTTH operator network and the local subscriber's network.
Compact and ergonomic, its design has been studied in partnership with SismoDesign agency for a sober, discreet and elegant depiction, to fit at best at the inhabitant.
For security, adapters include an automatic laser and dust protection, called « internal shutter ».
The @XS-Hybrid outlet holds one slot for RJ45 adapter (Keystone format), or Coaxial TV adapter (with our Keystone accessory to fit standard plug).
The front side contains all the necessary indications (from top to bottom):
Swiveling flap to protect and hide the identification label
Area to stick Identification Label (under the flap)
Indication that polarizing slot is upwards
Integrated laser symbol
The @XS-Hybrid outlets range comes in 2 families:
The "equipped" outlet is provided with adapter and pigtail preinstalled. It must then be connected with the subscriber's cable.
The "kit" outlet is provided pre-cabled, ready to be fastened without any outlet opening. Cable type and length are customizable.
Characteristics
Characteristics
Construction characteristics
Construction characteristics
Dimensional characteristics
Dimensional characteristics
Maximum number of adaptators
Mechanical characteristics
Mechanical characteristics
Usage characteristics
Usage characteristics
Operating temperature, range
Minimum static operating bending radius
Resources
Resources
Our websites
Select your country to find our products and solutions