LANmark Industry module DIN-rail mount with 1 Maritime Snap-In Category 7A grey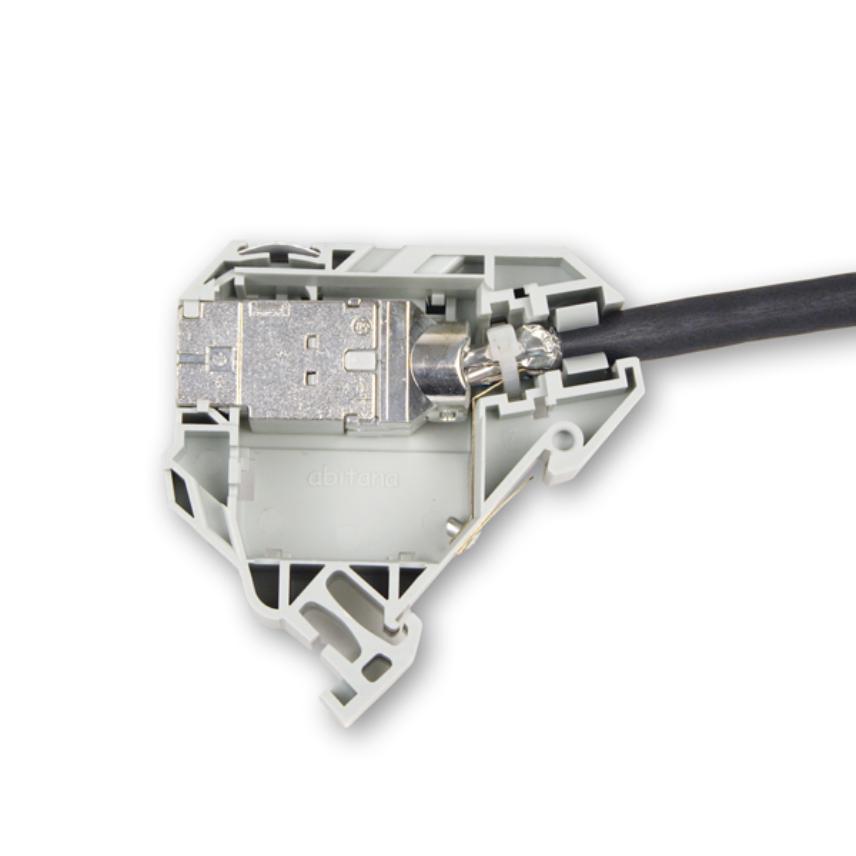 For DIN-Rail mount (35mm)
Data connection for industrial and maritime environments
Easy termination, without punch down tool.
Includes Mount + LANmark-7A Maritime shielded connector
For technical enclosures, Wireless Access Points, Industrial cabinets
Read more
Description
Description
Standards
International

ISO/IEC 11801; ISO/IEC 24702
Application
The LANmark Industry DIN-Rail mount is designed to enable the installation of LANmark-7A Maritime Snap-in data connectors in industrial cabinets fitted with a 35mm DIN-Rail. Several DIN-Rail mounts can be joined together to form a row. The LANmark-7A connector exceeds the requirements of ISO/IEC 11801:2011. As such it supports all data applications defined for Cat 5, Cat 5e, Cat.6, Cat 6A and Cat 7A, such as:
10baseT
Fast Ethernet
Gigabit Ethernet
10 Gigabit Ethernet
155 ATM
622 ATM
1.2 ATM
Industrial Ethernet
Performance
The LANmark-7A Snap-in connector has been designed to reach the highest performance in Category 7A and is part of the NCS DNV certified Maritime cabling products range.
Installation
The LANmark-7A Snap-in connector is designed to be terminated without punchdown tool. For fast and easy installation an optional comfort tool can be used.
Fast termination
Colour code : TSB568A & TSB568B
Can be used with all types of cables : UTP, F/UTP, SF/UTP and S/FTP
Accepts 24, 23 and 22 AWG cable, PUR, LSZH
For all LANmark industrial and maritime cables
Characteristics
Characteristics
Construction characteristics
Construction characteristics
Dimensional characteristics
Dimensional characteristics
Length cable end on inner side
Approximate weight per piece
Electrical characteristics
Electrical characteristics
Maximal operating frequency
Mechanical characteristics
Mechanical characteristics
Mechanical resistance to impacts
Usage characteristics
Usage characteristics
Cabling and Connectivity solutions
Electro magnetic interference resistance
Minimum operating temperature
Maximum operating temperature
Resources
Resources
Selling & delivery Information
The LANmark-7A DIN-Rail Mount is fitted with an earthing key. Please read the indstallation guidelines for proper grounding connection to the DIN-Rail. Set of covers (right-left) available (N20i.002)
Our websites
Select your country to find our products and solutions