LANmark-6A Snap-In Connector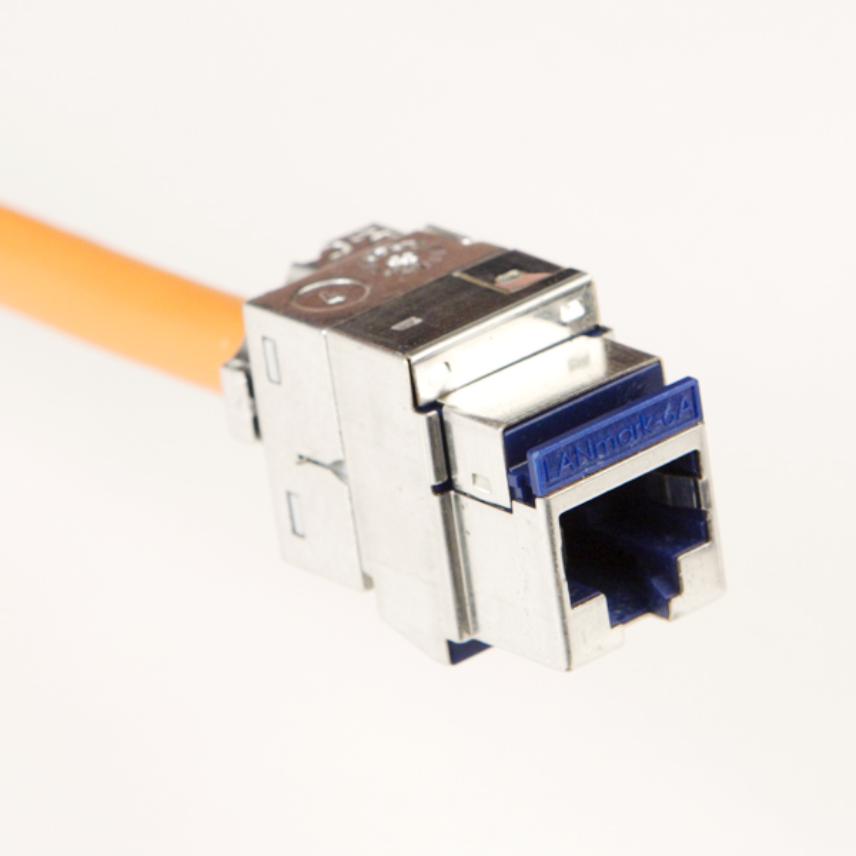 High bandwidth RJ45 connector supporting 10 Gigabit Ethernet
Fully compliant with TIA and ISO Category 6A cabling and connector standards
Supports very short Category 6A channel configurations, often required in Data Centres
360° shielding offering full Alien Crosstalk immunity
Fast and easy termination without punch down tool
Wiring according to colour code T568B or T568A
Reterminable
Stranded version available for CP to TO links
Supports PoE++ Type 4 applications delivering up to 90W/71W (IEEE 802.3bt)
An adapter can be added to fit the keystone format
Read more
Description
Description
Standards
International

EN 50173-1; IEC 60603-7-51; IEEE 802.3af (PoE); IEEE 802.3bt (PoE++); IEEE 802.3at (PoE+); ISO/IEC 11801:2002/Amd 1:2008/Cor 1:2008; ISO/IEC 24764; ISO/IEC 11801:2002/Amd 2:2010/Cor 1:2010

National

ANSI/TIA-568-C.2
Application
Nexans LANmark-6A Evo Snap-In Connectors are manufactured and tested to the latest Category 6A specifications defined in the International and American cabling standards and are designed to meet or exceed the stringent quality and performance criteria needed to support all applications up to 500 MHz, including 10 Gigabit Ethernet.
A fully closed metal rear cover providing 360 degrees shielding offers excellent coupling attenuation and ensures immunity from Alien Crosstalk and other external interferences.
Channels built with LANmark-6A cables and jacks do not need on site testing for Alien Crosstalk, as this parameter is met by design. This significantly reduces the installation cost for 10G network cabling.
10 BASE-T Ethernet
100 BASE-T Fast Ethernet
1000 BASE-T Gigabit Ethernet
10G BASE-T Gigabit Ethernet IEEE 802.3
155 Mbit ATM
1.2 Gbit ATM
PoE++ Type 4 (IEEE 802.3bt) including IEC 60512-9-3/ed.2 (test 9c) and IEC 60512-99-002/ed.1 draft (test 99b)
Future Cat 6A and Class EA applications
Design
Nexans LANmark-6A Evo Snap-In connectors are designed to match with LANmark-6A cable and patch cords and to complement all LANmark modular components, such as:
Snap-In patch panels (fixed, sliding and angled) and Zone Distribution Boxes
Snap-In outlet modules (UK, US, European and German style)
Performance
Nexans LANmark-6A Evo connectors meet or exceed the requirements for Category 6A connecting hardware as described in ISO/IEC 11801, IEC 60603-7-51 and EIA/TIA 568-C.2.
In conjunction with LANmark-6A cable they support all 2, 3 and 4 connector models as specified in these standards, as well as very short link and channel configurations which are increasingly required in Data Centre environments.
Installation
The wire organiser guarantees fast and easy termination of the LANmark-6A Evo Snap-In connector without the need for a punchdown tool. An optional comfort tool (N420.567) can be used to increase the ease of installation.
A stranded version is available for CP to TO links.
Guarantees
The LANmark-6A Evo Snap-In performance is guaranteed to meet or exceed the requirements of the above mentioned standards.
Traceability codes on both connector and packaging ensure quality validation.
Installations with LANmark-6A cable and connectivity are qualified for a 25 year full system warranty, which includes Parts, Installation, Channel Performance and Application Support, as described in the Nexans Certified System Warranty.
Electrical Performance LANmark-6A 4 Connector Channel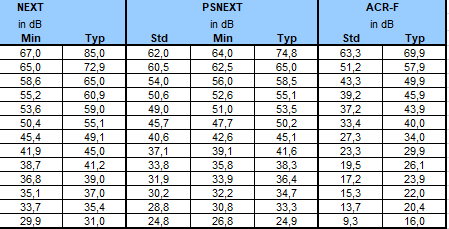 All values are based on Worst Case 4 Connector Channel configurations according to ISO11801.
Minimum and maximum values represent guaranteed Channel performance.
Standard values based on ISO11801 Class EA
Our websites
Select your country to find our products and solutions