LANmark-5 Snap-In connector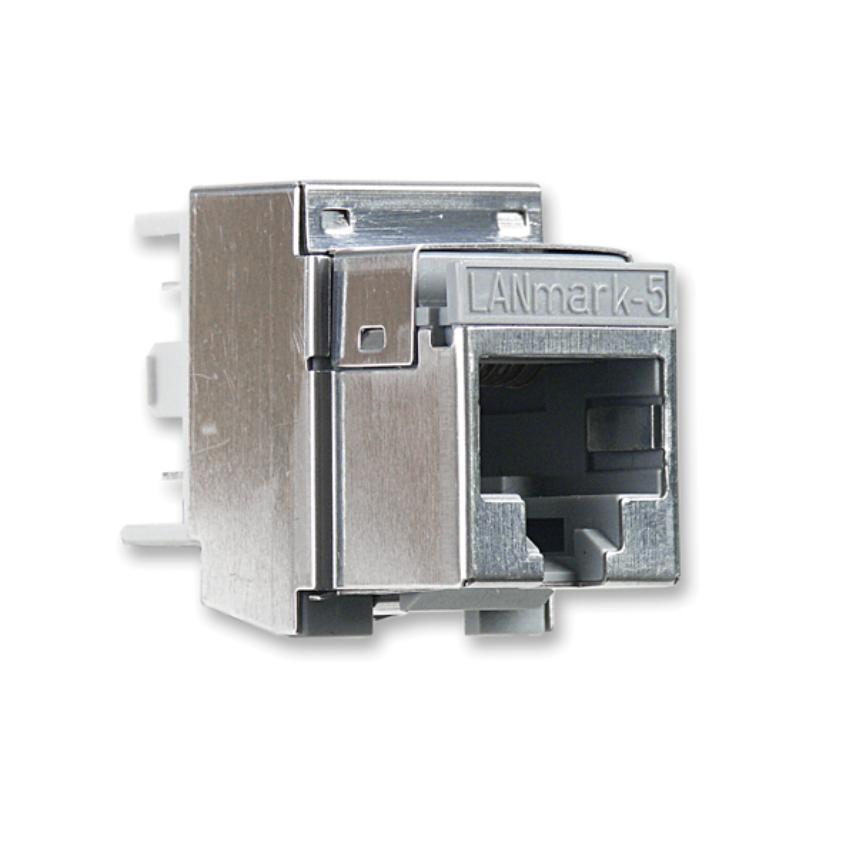 Available in Screened and Unscreened version
Version for stranded wire available, both in Screened and Unscreened
No punchdown tool needed for termination
Reduced risk of installation errors gives consistent performance
Compatible with all Snap-in hardware
Compatible with keystone format using additional clip
Read more
Nexans ref. N420.555
Packaging:

Bag (24Unit)

Screen:

Yes

Depth:

36.4 mm
Nexans ref. N420.550
Packaging:

Bag (24Unit)

Screen:

No

Depth:

28.7 mm
Description
Description
Standards
International

ISO/IEC 11801
Application
The LANmark-5 Snap-in connector range is part of the Nexans modular system and fits in all structural hardware designed for this range. As such it supports all data applications defined for Cat 5 and Cat 5e, such as 10baseT, Fast Ethernet, Gigabit Ethernet, 155 ATM.
Performance
The LANmark-5 Snap-in connector is designed to reach the highest performance in Cat5e. It has outstanding performance for attenuation (insertion loss), NEXT/FEXT, Power Sum NEXT/FEXT and Return Loss, exceeding the Cat 5e connector specs as in ISO/IEC 11801:2002. Used with Nexans LANmark-5 cable and patchcords, the connector is tested to exceed the link and stringent four-connector channel requirements as defined in the ISO/IEC 11801:2002 standard.
Guarantees
The LANmark-5 Snap-in connector range is covered by the Nexans guarantee conform The General Terms and Conditions of Sales. In combination with the Nexans LANmark-5 product range, the Nexans Certified System Warranty can be obtained, covering parts, system and labour.
Installation
The LANmark-5 Snap-in connector range is designed to be terminated by hand, without punchdown tool. The exclusive construction of the wire organizer makes termination fast and self-evident. To allow an even quicker and easier installation, an optional comfort tool can be used (N420.567). This tool includes an extraction mechanism which makes the connector re-usable. The LANmark-5 snap-in range is Nexans technology inside and user friendly outside.
Fast and easy termination thanks to wire organiser
No punchdown tool needed
Colour code : T568A and T568B
Re-usable with universal comfort tool (N420.567)
Fits in all Nexans structural hardware for snap-in format
Different versions available: for solid wire and for stranded wire, both in screened and unscreened version.
Characteristics
Characteristics
Construction characteristics
Construction characteristics
Usage characteristics
Usage characteristics
Our websites
Select your country to find our products and solutions